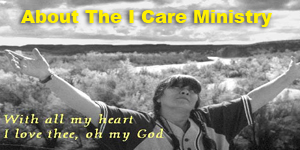 One day, as I was just sitting alone, with thoughts of Our Lord engulfing my soul. I started thinking of all His little children and that was everyone in the world. I started thinking about those who are having such difficult times and who are falling under the weight of heavy crosses.
I thought, "Well, I CARE, Dear Lord, for your people".
I then was inspired to create this ministry so that I could always be there if any of God's people ever needed a friend in Christ, when they are in distress, and feeling all alone. I used to do it only out of my home until I found out about the Internet. So for 8 years now, I have been using the Internet to do this ministry. [read more]

QUOTES FROM SAINTS
"The Our Father contains all the duties we
owe to God, the acts of all the virtues and the petitions for all our spiritual and corporal needs."-St. Louis de Montfort
"The proof of love is in the works.
Where love exists, it works great things.
But when it ceases to act, it ceases to exist."-Pope St. Gregory the Great
"Preach the Gospel daily--use words if necessary."-St. Francis of Assisi
"Prayer ought to be short and pure, unless it be prolonged by the inspiration if Divine grace."-St. Benedict
"He alone loves the Creator perfectly
who manifests a pure love for his neighbor."-St. Bede the Venerable
"Your love has gone before me; it has grown with me, and now it is an abyss whose depths I cannot fathom."-St. Therese of Lisieux
"That man is truly humble who converts humiliation into humility."-St. Bernard
"The saints are like the stars. In his providence Christ conceals them in a hidden place that they may not shine before others when they might wish to do so. Yet they are always ready to exchange the quiet of contemplation for the works of mercy as soon as they perceive in their heart the invitation of Christ."-St. Anthony of Padua
"Remember that the Christian life is one of action; not of speech and daydreams. Let there be few words and many deeds, and let them be done well."-St. Vincent Pallotti
"Belief and faith are proved by works,
not by simply saying that one believes,but
by real actions, which are kept up,
and by a heart burning with love."-St John Chrysostom
Lord, help me to live this day, quietly, easily.To lean upon Thy great strength, trustfully, restfully. To wait for the unfolding of Thy will, patiently, serenely. To meet others, peacefully, joyously. To face tomorrow, confidently, courageously. -St Francis
"A pure soul is like a fine pearl.
As long as it is hidden in the shell at the bottom of the sea, no one thinks of admiring it. But if you bring it into the sunshine,
this pearl will shine and attract all eyes.
Thus, the pure soul which is hidden from the eyes of the world, will one day shine before the angels in the sunshine of eternity." -St. John Vianney
"Do you know when people really become spiritual? It is when they become the slaves of God and are branded with His sign,which is the sign of the Cross, in token that they have given Him their freedom."-St. Teresa of Avila
"God does not command us to live in hair shirts and chains,or to chastise our flesh with scourges, but to love Him above all things
and our neighbor as ourselves."-St. Charles of Sezze
"Love to pray-- feel often during the day the need for prayer, and take trouble to pray. Prayer enlarges the heart until it is capable of containing God's gift of Himself. Ask and seek, and your heart will grow big enough to receive Him and keep Him as your own."-Mother Teresa
"A person to whom God gives [special or high] graces at prayer, should give good heed to accompany them with true mortification and humility ...if they do not, the graces will
not last, or are nothing but illusions."-St. Jane Frances de Chantal
Another Link To More Saint's Quotes
Spiritual Care Packets
I and others, are in the process of putting together "Spiritual Care Packets," to be given out to the our youth and other people whom these "Spiritual Care Packets" might help to grow in the Love of God. Each packet will contain a Rosary, directions on how to pray the Rosary, a Scapular, a pamphlet explaining the Scapular, a Miraculous Medal, a pamphlet explaining the Miraculous Medal, a Holy Card of the Sacred Heart of Jesus and the Immaculate Heart of Mary, the Litany of Humility, a simple explanation of the Catholic faith, a Holy Card about Vocations and prayer for Vocations and any other Sacramentals sent to us. These will be placed in baggies marked "Spiritual Care Packets." We feel there is a dire need to reach out to our youth and others and to use Sacramentals to help bring them closer to Jesus. I am writing you to ask for your help in any way with this project. I do not have the means to purchase the items for the "Spiritual Care Packets." Perhaps you can send Scapulars, Rosaries, Miraculous Medals, Holy Cards or any other Sacramental to place in these packets. Holy Cards of Saints are also needed. Would you also ask your friends to help? I thank you in advance for any help you can give to this project. The children's youth group that I am the leader of, sent "Spiritual Care Packets" to over one-hundred soldiers overseas and they were well received. We have given them to the RCIA and Confirmation Candidates in our parish and other parishes. We sent one-hundred "Spiritual Care Packets", which were given out at "World Youth Day, 2003." I just got an order to send 1000 to Tonga in the South Pacific.I also will send you a "Spiritual Care Packet", if you send me your address. People are welcoming them spiritually as they journey closer to Jesus. Many need Sacramentals on their life's pilgrimage. Thank you for your prayers and contributions to help this project which will help souls grow in Christ's Love!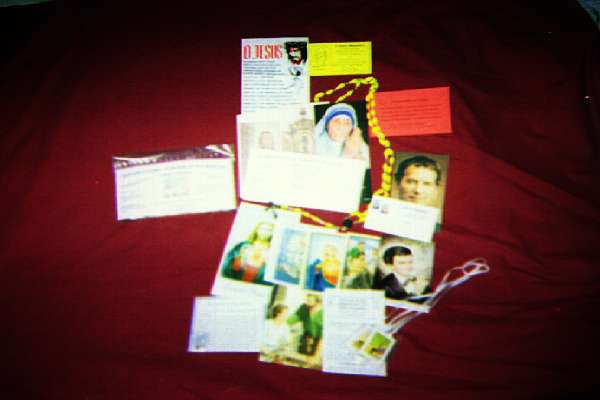 If you would like to donate any religious items to help me with my Spiritual Care Packets, my address is:

Suzin Levine
PO Box 7164
Visalia, CA 93291